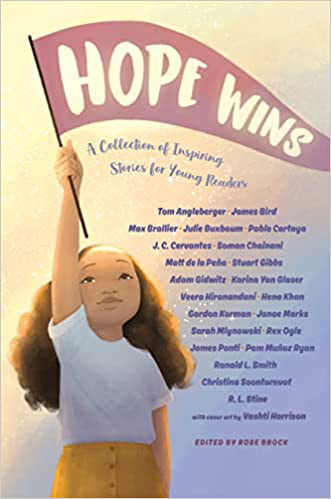 In a collection of personal stories and essays, award-winning and bestselling artists from Matt de la Peña and Veera Hiranandani to Max Brallier and R.L. Stine write about how hope always wins, even in the darkest of times.
Where does hope live?
In your family?
In your community?
In your school?
In your heart?
From a family restaurant to a hot-dog shaped car, from an empty road on a moonlight night to a classroom holiday celebration, this anthology of personal stories from award-winning and bestselling authors, shows that hope can live everywhere, even—or especially—during the darkest of times.
No matter what happens: Hope wins.
Contributors include: Tom Angleberger, James Bird, Max Brallier, Julie Buxbaum, Pablo Cartaya, J.C. Cervantes, Soman Chainani, Matt de la Peña, Stuart Gibbs, Adam Gidwitz, Karina Yan Glaser, Veera Hiranandani, Hena Khan, Gordon Korman, Janae Marks, Sarah Mlynowski, Rex Ogle, James Ponti, Pam Muñoz Ryan, Ronald L.Smith, Christina Soontornvat, and R.L. Stine.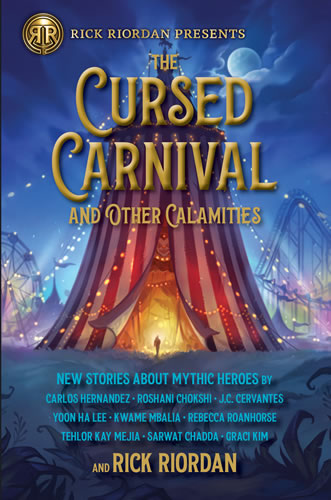 Best-selling author Rick Riordan presents ten new stories–including one of his own–about beloved heroes that sprang from the imaginations of some of the best middle grade authors working today.
"I hope you enjoy your trip through the multiverse mansion as much as I did. The real danger is that once you start exploring all the wonders herein, you may want to stay forever."–Rick Riordan
A cave monster . . . an abandoned demon . . . a ghost who wants to erase history . . . a killer commandant . . . These are just some of the challenges confronting the young heroes in this highly entertaining anthology.
There's something for everyone in this collection of fast-paced and funny adventure stories that show what it takes to be a hero in any time, setting, and universe.
Praise for The Cursed Carnival

With an inclusive range of contributors drawing upon their respective heritages and experiences to craft culturally    specific, gratifyingly adventurous tales, there's a little something for everyone here, like a world tour of wonder and excitement.​" Publisher's Weekly

"A captivating collection of stories based on world mythologies. ​" Kirkus


"This collection will appeal to any middle grade reader who loves fantasy. Each simply-told story has a similar tone with contemporary, believable dialogue and features action as the focal point. .​" School Library Connection


"The collection is cohesive, with common threads of adventure and kid-friendly humor.​"  School Library Journal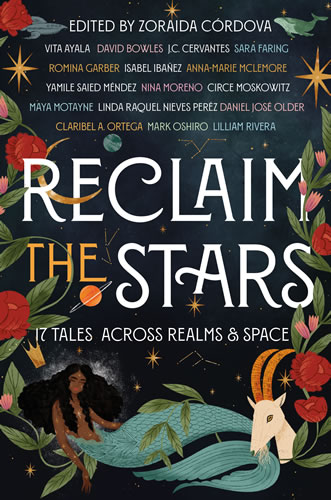 From stories that take you to the stars, to stories that span into other times and realms, to stories set in the magical now, Reclaim the Stars takes the Latin American diaspora to places fantastical and out of this world.
Follow princesses warring in space, haunting ghost stories in Argentina, mermaids off the coast of the Caribbean, swamps that whisper secrets, and many more realms explored and unexplored; this stunning collection of seventeen short stories breaks borders and realms to prove that stories are truly universal.
Reclaim the Stars features both bestselling and acclaimed authors as well as two new voices in the genres: Vita Ayala, David Bowles, J.C. Cervantes, Zoraida Córdova, Sara Faring, Romina Garber, Isabel Ibañez, Anna-Marie McLemore, Yamile Saied Méndez, Nina Moreno, Circe Moskowitz, Maya Motayne, Linda Raquel Nieves Pérez, Daniel José Older, Claribel A. Ortega, Mark Oshiro and Lilliam Rivera.
Praise for Reclaim the Stars

There is a little something for everyone in this powerful, essential anthology. "Eterno," J.C. Cervantes' story of an impossible love between a human girl and a not-so-human boy" – Kirkus, Starred Review
Stay tuned for some of my new projects:
Sign up for the mailing list